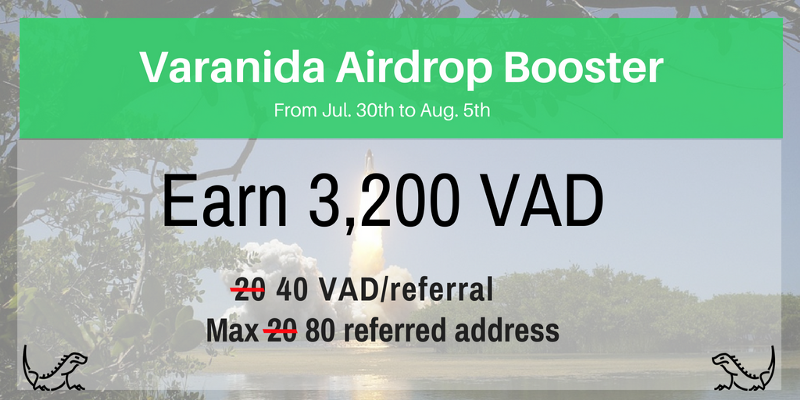 We are super excited by the current adoption of the Varanida Extension, the very first application of the Verified Ad Protocol. Through the extension, Varanida users have blocked more than 400 million intrusive ads and scripts! With close to 1,000 new downloads each day, Varanida is expecting that number to grow quickly as feedback from the community has been outstandingly positive.
Today, in order to thank the Varanida community for your support throughout this whole project, and to celebrate the recent launch of our ICO, we are launching an Airdrop Booster. The Varanida Airdrop Booster will give you 7 days to earn up to 3,200 additional VAD.
How Does The Airdrop Booster Work?
Usually, the Varanida extension allows users to earn 20 VAD per referral, while allowing a maximum of 20 referrals. However, during the 1 Week Airdrop Booster, the number of VAD earned from referrals will be doubled and the number of referrals allowed will be quadrupled!
Here are the details:
40 VAD per referral (instead of the usual 20)
Refer up to 80 addresses (instead of the usual 20)
Starts: July 30th at 00:01 CEST
Ends: August 5th at 23:59 CEST
How Does The Referral System Work?
Open the Varanida Extension (if you have not installed it yet, you can get it here) and copy paste your unique Ethereum address, starting with 0x
Share your address with friends, family, co-workers, followers, etc. and ask them to download the Varanida Extension from this page
After they download it, the extension will ask for a referral address
Tell them to copy and paste your referral address and… there you go! Your VAD balance will increase by 40 VAD for each referral. 🎉
Cleaning the Internet is easier said than done, so we need your help. Varanida is a project we are strongly committed to, as it enables all parties to regain the control they truly deserve over their own data, work, and opportunities, and receive the value they deserve from that participation.
Get ready for the Varanida Airdrop Booster! 🦎 🦎 🦎
⚠️ Warning ⚠️
We have a strong anti-fraud and abuse policy. Any unnatural referral behaviors (i.e. bots, auto-refers, emulated browsers, etc.) won't receive a referral credit, the referrer will be banned, and their VAD balance will be reduced to 0. Finally, a KYC will be required from all users to claim their earned VAD tokens.
---
If you would like to find out more about Varanida mission and vision, please make sure to download our White Paper and follow our journey: