Since we started working on Varanida and our dream of cleaning up the Internet, we have been inspired and impressed by the support we received from the community. We know we are working on something big when we receive messages everyday from people all over the world, thanking us for the early ad controlling prototype we built or asking us if we are looking to hire people that are also eager to disrupt the advertising and media industry.
We want Varanida's impact to be as large as possible, and we want to give our community a chance to participate in that growth, so we are excited to publicly announce our Token Sale!
Why Do A Token Sale?
The ad tech industry that has been supporting the Internet for the last 20 years is in bad shape. If we want to continue using the Internet the way it was intended, we need to enter a new era for advertising and digital media. But that goal is only possible with a strong community that works together to make a real impact, and with enough financial support to remain independent.
When we decided to launch Varanida, we considered traditional funding methods, but in today's venture capital world, new ad tech companies are rarely funded because the market is owned and controlled by the existing monopolies. In addition, funding a startup with venture capital puts you in a position where you need to be frequently raising additional funding, which takes your focus away from your main goal of growing the company. With a Token Sale, you build a community of users, clients, and partners that believe in your vision, with enough funding to focus on executing that vision for the next 5 years, instead of raising more funding.
Finally, we believe that in today's network economy, value should be more fairly distributed among the participants of those networks. Tokens are not only a funding strategy, but a business model choice where all actors are compensated.
Token Sale Details
1 Billion VAD "Verified Ad" Tokens will be created after the token sale is conducted. VAD is an ERC-20 token running on the Ethereum Network, and will fuel the first iteration of the Varanida Network, before the Varanida Blockchain goes live, running on its own blockchain and fueled by a dual token model.
Soft Cap: 8M€
Our soft cap of 8M€ corresponds to the minimum amount needed to release our mainnet by the end of 2019. If we don't raise at least this amount, the project wouldn't have enough support to get off the ground, so we would reimburse all participants, and our own investment of time and money in the pre-ICO phase will be lost.
Hard Cap: 39.70M€
Our hard cap of 39.70M€ (discounts included) corresponds to the ideal budget needed to release our mainnet in Q2 of 2019, and also have a strong impact in the space (hiring the best available talent, including the potential acquisition of existing technology and teams, etc.). In a scenario where we are over the soft cap but under the hard cap, all unsold tokens will be burned to equilibrate the liquidity (this would be applied to allocations on a pro-rata basis).
Token Allocations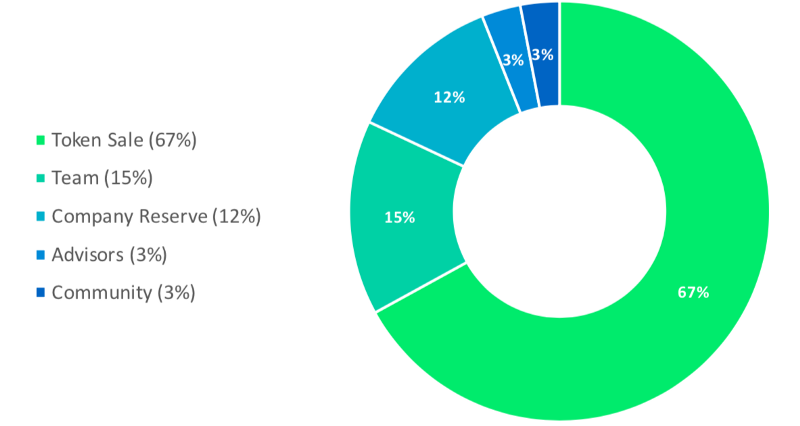 Token Sale: 67% (670M) — Sold to Users, Publishers, and Advertisers
Team: 15% (150M) — 2 years vesting, with a 1 year cliff
Company Reserve: 12% (120M) — 4 years vesting, at 25% per year
Advisors: 3% (30M) — 6 month hold bonus
Community: 3% (30M) — Includes 2% for the Airdrop currently running through the Varanida Extension (Airdrop Details)
VAD ERC-20 Tokens will be distributed right after the ICO audit would have been conducted, which should be 2 to 3 weeks after the ICO end. You can review our token distribution smart contract here: https://github.com/Varanida/VaranidaToken
Budget Allocations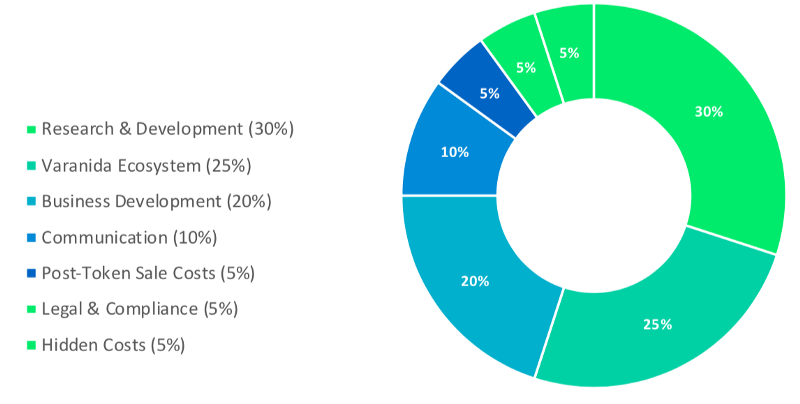 How To Participate In The VAD Token Sale
To participate in the Token Sale, you will need to request an invitation here: https://www.varanida.com/vad-token-sale, and then register in our dedicated ICO platform.
Note that we will NEVER ask you to contribute outside of the ICO platform.
Once registered, you will be provided with a unique BTC address that you can use to contribute. For Round 1 only, you can also be provided with a unique ETH address to contribute to. This process allows better transparency for contributors and auditors.
Token Sale Structure
Round 0: We had a private pre-sale, with personal invitations given to participants who were either investors, contributors, early believers, or people who can add value to the project later on. It ended on June 26th, and the token was offered at a 50% discount (or 0.00000570 BTC / VAD). 1.46% of the total token supply was sold (exact amount = 14,558,339 VAD).
Round 1: Starts Today! This round is invite-only, and you can request an invitation here: https://www.varanida.com/vad-token-sale.
Note that the minimum contribution for Round 1 is 3 BTC (or 30 ETH) and depending on the amount of interest, we are not able to guarantee participation. 30.15% of tokens will be sold during Round 1 at a 30% discount (0.00000900 BTC / VAD).
Round 2: Round 2 will begin the 15th of August, and will be open to the public, subject to KYC. 20.10% of tokens will be sold during Round 2 at a 10% discount.
Round 3: Round 3 will begin the 15th of September, and will be open to the public, subject to KYC. 16.75% of tokens will be sold during Round 3, but no discount will be offered.
KYC & Restrictions
All participants will be required to complete a KYC, and will be subject to Varanida's ICO terms and conditions, available here: https://ico.varanida.com/cgv.
Before you participate, we strongly encourage you to learn more about our vision and our business plan, as outlined in our white paper: https://varanida.com/whitepaper.pdf
BEWARE OF SCAMS
Varanida team members will never ask for your private key, your passwords, or for you to contribute outside of the ICO platform at https://ico.varanida.com. Please verify all links, all addresses, and all communication emails. Don't fall for scammer tactics, who will steal your assets and destroy the credibility of our project.
Disclaimer
This document does not constitute or form part of, and should not be construed as, an offer for a sale or subscription, or an invitation to buy or subscribe shares, securities, or right belonging to Varanida. It does not constitute the basis for, or should not be used as a basis for, or in connection with, a contract for the sale of securities or financial instruments or a commitment to sell securities or financial instruments of any kind.
Varanida is not deemed providing any information which can be considered as a basis for an investment decision for the purchase of VAD Tokens. Varanida is not providing any investment recommendation nor investment advice.
Varanida expressly disclaims any liability for any direct or indirect loss or damage of any kind arising directly or indirectly from:
(i) any reliance on the information contained in this document,
(ii) any error, omission or inaccuracy in said information, or
(iii) any resulting action that may be brought.
A VAD Token:
– is not a financial instrument, within the meaning of EU Directive 2014/65/EU of the European Parliament and of the Council of 15 May 2014 relating to markets in financial instruments,
– is not proof of ownership or a right of control It does not confer any right on any asset or share in Varanida,
– is not an electronic currency within the meaning of EU Directive 2009/110/EC of the European Parliament and of the Council of 16 September 2009 relating to access to and pursuit of the business of electronic currency institutions,
– does not qualify as a payment service within the meaning of EU Directive (2007/64/EC) of 13 November 2007 relating to payment services in the internal market, nor within the meaning of the (EU) Directive relating to payment services 2 (DSP 2) N° 2015/2366 of the European Parliament and of the Council of 25 November 2015,
– is a cryptographic token used to run the Varanida Protocol, unregulated, digital asset, issued and controlled by its developers, and used and accepted only by the members of a given community.
Purchasers of VAD Tokens must seek appropriate financial, tax, and other legal and regulatory advice from independent financial advisors with appropriate qualifications to determine whether the purchase of the VAD Tokens is adapted to their own situation and authorised for subscription under their own legal and regulatory rules. Any decision to purchase the VAD Tokens should be based on the information contained in the White Paper and the Terms & Conditions which includes, inter alia, information on certain risks associated with the purchase of the VAD Tokens (Investors shall pay attention to the Section "Risk" of the T&C to assess the risk linked to the purchasing of the VAD Tokens).